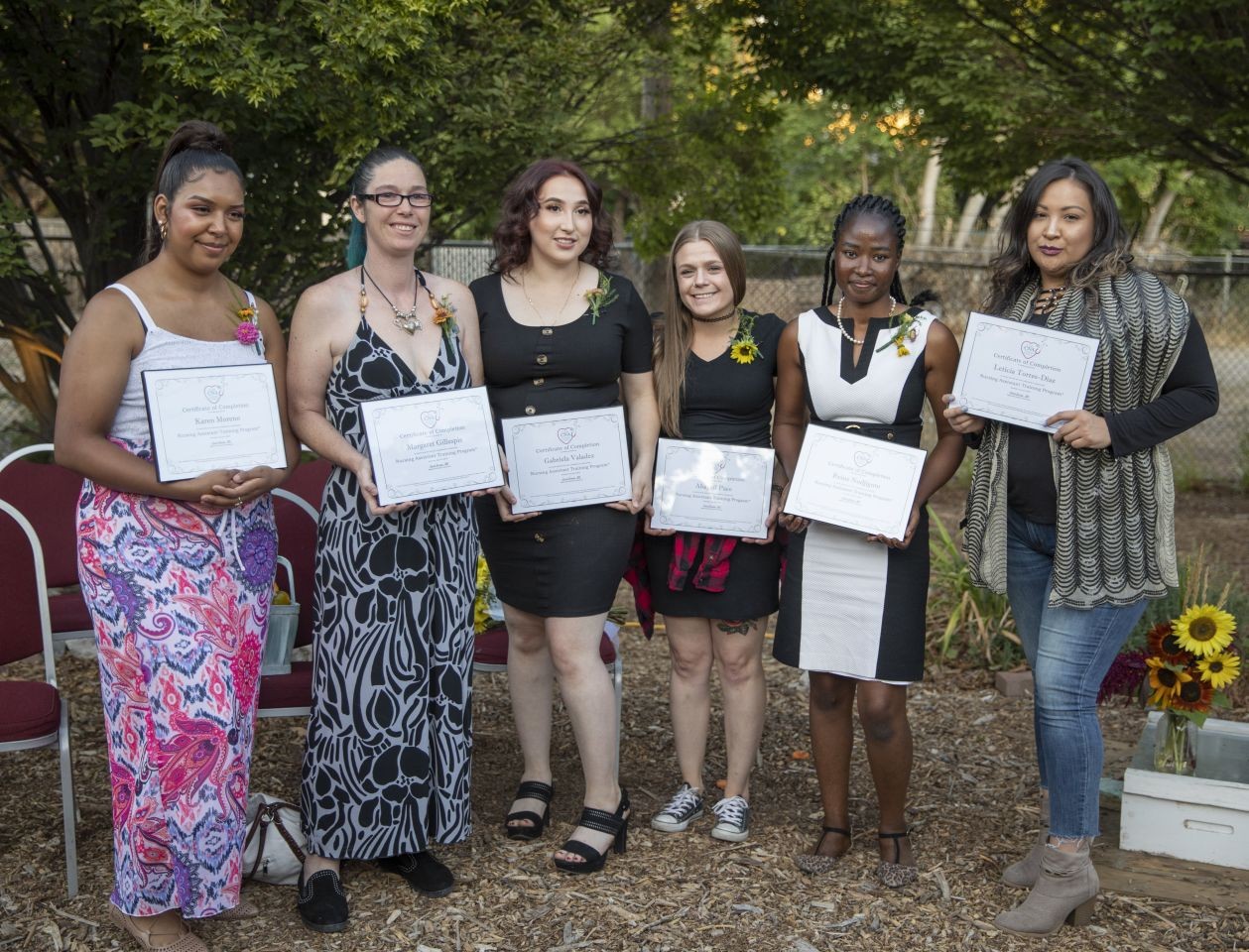 Wasatch Community Gardens (WCG), a Salt Lake City based nonprofit dedicated to an inclusive, robust and vibrant community that is nourished by healthy and affordable food, is excited to celebrate the recent graduates of their first Seeds of Success cohort.
This new program is the result of United Health Foundation funding of a partnership with Climb Wyoming, a nonprofit with 30 years of experience moving families out of poverty through job training and placement. Seeds of Success engaged single mothers in poverty, leveraged the therapeutic environment of WCG's Green Team Farm to help participants develop strong professional and social networks, capitalized on the positive role that gardening and healthy eating can play in the journey from poverty to self-sufficiency for struggling families, and included Certified Nursing Assistant training to prepare participants for employment in a high growth field.
Program director, Susie Marvin, explained, "Each of these women has made a courageous commitment to improving her situation through hours of hard work and fierce determination. For ten weeks, the group worked together to overcome the demands of rigorous job training while dedicating four hours each week to working on the Green Team Farm. The farm provided time and space for the group to engage in workplace situations and practice critical job skills like communication, conflict management, and mindfulness. The group observed the plants growing each week, and I saw tremendous growth in each of these women and their families. They are leaving the program one step closer to self-sufficiency, and also taking with them increased confidence and a sense of community."
Upon entering the Seeds of Success program, participants were making an average of $221 per month, with most experiencing unemployment. While some graduates continue to be placed in careers, others have already started full time jobs with benefits, increasing their average income to $2080 per month.
Maggie, a program graduate said, "This was an awesome launching point for the beginning of my future. Aside from the CNA work, I learned job and life skills and different ways of thinking. It taught me a lot of skills, and not just for work – for personal life and my kids. I use a lot of this with my kids now and it works so well. I can use the skills in every aspect of my life."
"The opportunity to engage single mothers in a program that allowed them to learn about healthy food, experience empowerment and healing through working with each other in the garden, and gain critical employment skills and jobs has generated new hope for families in need," said Ashley Patterson, executive director, Wasatch Community Gardens. "These women are thriving. They have experienced the power of gardening and healthy food and are eager to experience the pride and impact of starting new careers. And we continue to be encouraged by the potential to provide deeply positive impact in our community through innovative programs."