#Giving Tuesday, December 3, 2019 - Open House!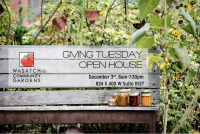 Wasatch Community Gardens' Office
824 S. 400 W. Suite, B127
Salt Lake City, Utah
8:00am - 7:30pm
Open House style, come when you can!

Wasatch Community Gardens is opening its office doors for any and all who wish to celebrate the giving season by joining us for Giving Tuesday on December 3rd. We'll have garden-based learning and food and drink throughout the day, so stop by and make a donation whenever works best for you!
Our schedule includes:
8am -10:30am
Join us for a cup of Morning Joe and a pastry for our early birds.
For the littles: stop by and meet our resident stuffties, Snowy the Chicken and Echo the Bat.
10:30am - 11:30am
Post your gardening questions to our panel of in-house experts for the annual WCG Gardening Q&A on Facebook Live!
11:30am - 1:30pm
Join us for Lunch with Laziz - light bites for lunch at the office, and a mini food demo - how to make a delicious veggie-packed smoothie.
Play a little lunchtime Cornhole!
1:30pm - 3pm
Join us for some mini workshops and skills sharing including:

Bring your wooden handled tools for oiling to preserve and beautify them.
A hands-on seed winnowing demonstration.
Examine a sample of your soil or compost under the microsope and check out its fauna and flora.

Come visit our "Campus Corner" to learn more about the garden design ideas at our soon-to-be Wasatch Community Gardens' Campus!
3pm - 5pm
Tea and Cookies with Laura (our lovely resident Brit and Director of Individual and Corporate Giving)
Swing by after school for some kid-friendly activities:

Check out the microscopic world of bugs and seeds – BYOBugs if you dare!
Meet the red wrigglers in WCG's vermi-compost bin.
Create a micro-greens "boat" with the Youth and School Garden Program.
5pm - 7.30pm
Checks, Cheese and Wine - Enjoy a glass of wine and some tasty cheese while you drop off your check supporting our local garden programs.
Meet some of this year's participants in our Farm-Based Job Training Program, and have your photo taken with our tomato mascot to commemorate an impactful and fun Giving Tuesday!