How to Start a Community Garden / Cómo iniciar un huerto comunitario
Nov 23, 2019

10:00 am

-

1:00 pm
Description
Learn how to start a community garden or school garden in your neighborhood! Join us for an interactive panel presentation with experienced community garden organizers, discussion, and networking to start you on your way. Wasatch Community Gardens staff will be on hand to help connect you with resources we provide for starting community gardens and school gardens throughout Salt Lake County. In addition, our panel of community experts will share their experiences starting and sustaining successful community garden projects.
Panelists
Erika Alcantara, Stephen D. Ratcliffe Community Health Center Community Garden
Erika Alcantara is the Clinic Director at Stephen D. Ratcliffe Community Health Center, and the SDR Community Carden Coordinator. The vision of the SDR Community Garden is to have a community gardening program for their patients. Erika loves the outdoors, hiking, camping and now gardening.
Melissa Brink, Emerson Elementary Community Garden
Melissa is a novice gardener but an accomplished volunteer currently serving as the parent volunteer garden steward at Emerson Elementary School in Salt Lake City. Her connection to the school garden started with hand watering 22 raised garden beds with buckets of water and a wagon during spring break of 2016. After five years of teacher and school staff management of the school garden at Emerson Elementary School, the 2018 growing season shifted to an all volunteer garden staff. Under Melissa's successful leadership over the past two years, Emerson Elementary School is dedicated to supporting their school garden becoming a true outdoor classroom through the establishment of an executive garden committee and the development of a Garden Educator position.
Laura Flower, Merit Medical Garden
Laura Flower started her urban farming career in 2011 working at New Roots refugee farming program in West Valley City. Laura also worked to expand the use of food stamps at farmers markets in 2014 while she worked for Utahns Against Hunger, and then traveled to New Zealand where she worked on several farms that included organic, permaculture and biodynamic methods. Laura now manages a one-acre employee garden at Merit Medical. She began the program in 2015 and that now includes a community garden, a farm-to-table and U-pick program, as well as educational workshops.
Britt Vanderhoof, Liberty Wells Community Garden
Britt Vanderhoof is a community health nurse. She is passionate about community gardening and believes it promotes physical, mental, emotional and social health. In 2014 she got involved with a group of gardeners to start the Liberty Wells Community Garden, located on 1700 S 700 E. This garden was made possible through a partnership with Wasatch Community Gardens and Salt Lake City called Green City Growers. After almost two years of planning the Liberty Wells Community Garden became a reality and is thriving today!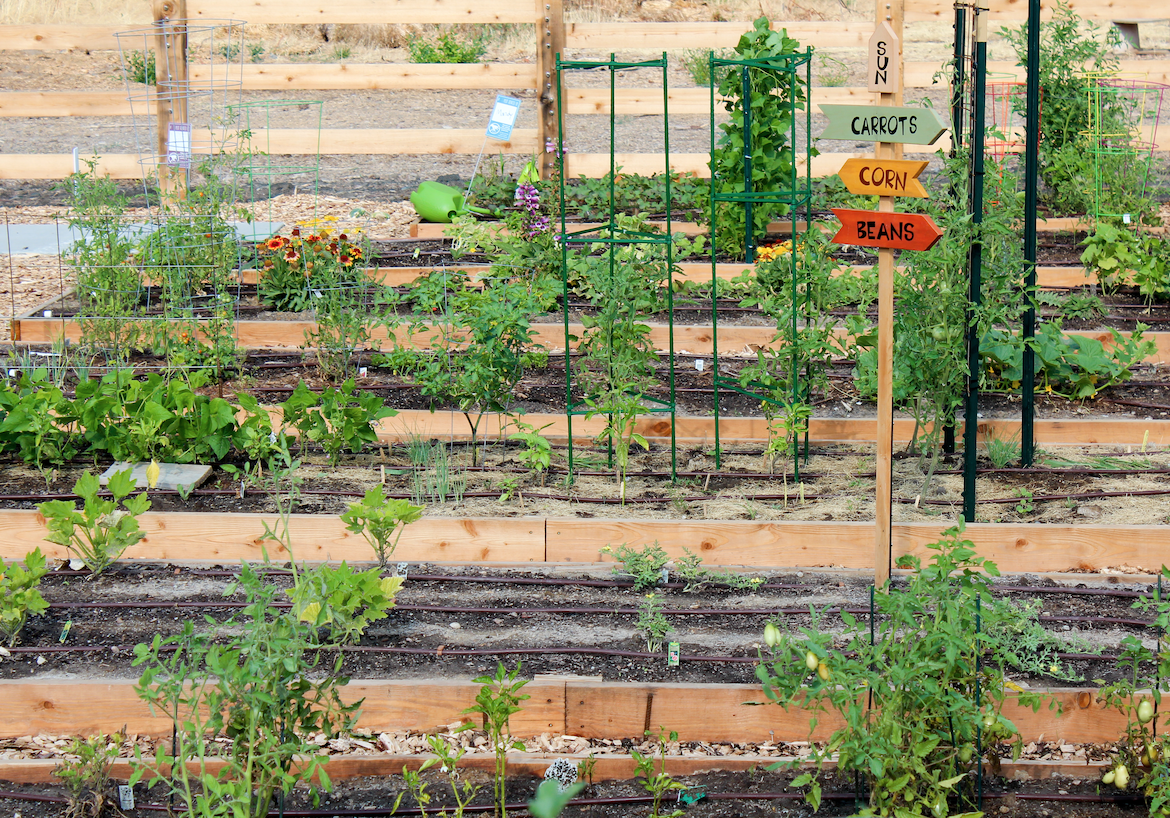 Descripción
¡Aprenda cómo iniciar un huerto comunitario o un huerto escolar en su vecindario! Acompáñenos para una presentación de panel interactiva con organizadores de huertos comunitarios, disucsión, y establecer contactos para ayudarle a comenzar su camino. El personal de Wasatch Community Gardens estará disponible para ayudarle a conectarse con recursos que ofrecemos para iniciar huertos comunitarios y huertos escolares en todo el Condado de Salt Lake. Además, nuestro panel de expertos de la comunidad compartirán sus experiencias.
Panelistas
Erika Alcantara, Stephen D. Ratcliffe Centro de Salud Comunitario
Erika Alcantara es la Directora de la Clínica en el Centro de Salud Comunitario Stephen D. Ratcliffe y la Coordinadora del Huerto Comunitario de SDR. La visión del huerto es tener un programa de jardinería comunitaria para sus pacientes. Erika ama el aire libre, el senderismo, el campamento y ahora la jardinería.
Melissa Brink, Emerson Elementary Community Garden
Melissa es una jardinera novata pero una voluntaria consumada que actualmente sirve como administradora voluntaria del jardín de padres en la Escuela Primaria Emerson en Salt Lake City. Su conexión con el jardín de la escuela comenzó con el riego manual de 22 camas de jardín elevadas con cubos de agua y un carro durante las vacaciones de primavera de 2016. Después de cinco años de gestión de maestros y personal escolar del huerto de la escuela primaria Emerson, la temporada de crecimiento de 2018 cambió a un personal voluntario de jardinería. Bajo el exitoso liderazgo de Melissa en los últimos dos años, la Escuela Primaria Emerson se dedica a apoyar que su huerto escolar se convierta en un verdadero salón de clases al aire libre mediante el establecimiento de un comité ejecutivo de jardinería y el desarrollo de un puesto de Educador del Jardín.
Laura Flower, Merit Medical Garden
Laura Flower comenzó su carrera en agricultura urbana en 2011 trabajando en el programa de agricultura para refugiados, New Roots (Nuevas Raíces) en West Valley City. Laura también trabajó para ampliar el uso de estampillas de comida en los mercados de agricultores en 2014 mientras trabajaba para Utahns Against Hunger (Utahns Contra el Habre), y luego viajó a Nueva Zelanda donde trabajó en varias granjas que incluían métodos orgánicos, permacultura y biodinámicos. Laura ahora administra un huerto de empleados de un acre en Merit Medical. Comenzó el programa en 2015 y ahora incluye un huerto comunitario, un programa de la granja-a-la-mesa, parcelas de donación, y talleres educativos.
Britt Vanderhoof, Jardín Comunitario Liberty Wells
Britt Vanderhoof es una enfermera de salud comunitaria. Le apasiona la jardinería comunitaria y cree que promueve la salud física, mental, emocional y social. En 2014 se involucró con un grupo de jardineros para comenzar El Huerto Comunitario Liberty Wells, ubicado en 1700 S 700 E. Este jardín fue posible gracias a una asociación con Wasatch Community Gardens y Salt Lake City llamada Green City Growers. ¡Después de casi dos años de planificación, el Jardín Comunitario Liberty Wells se convirtió en una realidad y está prosperando hoy!
Location information
Country

United States of America
County

Salt Lake
City

Glendale 84104
Street

1375 S Concord Street