Wasatch Community Gardens (WCG) is actively responding to the growing and evolving needs of our community, meeting those needs in ways that are sustainable, equitable, and intentional. We have identified an opportunity to deepen our impact over a short period of time to ensure greater food security for members of our community who have been pushed to the margins, and are disproportionately affected by limited or no access to fresh, healthy food.
Catalyzed by the need to move the current site of our Green Phoenix Farm, we have developed a five-year capacity and capital building plan to propel the organization to a new level of operations that can be sustained, once elevated, without extraordinary measures.
We value sustainable, equitable, intentional growth, to ensure the continued vigor of the organization, our supporter base, and the WCG team. By the end of the five years, WCG will have sustainably built sufficient capacity, with equitable pay, and intentional structure so we can meet the growing demands of our community. This Plan builds upon the three all-important pillars that guide our actions:
Preserving Productive Green Space;
Establishing Sharable Models; and
Strengthening Organization Partnerships
How Can You Help?
Our first goal is to achieve half of our $2 million 2:1 Match by October 1, 2023. Read on to learn how you can help us reach this $500,000 threshold by donating today or This email address is being protected from spambots. You need JavaScript enabled to view it. to learn more.
WHAT IS THE $2 MILLION CHALLENGE GRANT?
Alternative Visions Fund is providing WCG with a challenge grant of $2 million, as a 2:1 match (i.e. for every dollar raised, Alternative Visions Fund will match it with $2) for the non-capital/non-infrastructure aspects of this Five Year Growth Plan for gifts up to $150,000, received by March 2024.
WHAT WILL WE ACCOMPLISH?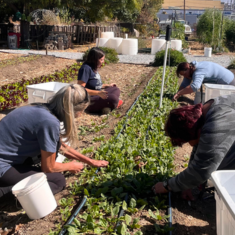 WCG is required to leave the Green Phoenix Farm, location of our Job Training Program for women facing homelessness, due to the end of a temporary lease with Salt Lake City's Redevelopment Agency, and current construction of a multi-story mixed use building adjacent to the east side of the site. This presents short-term challenges including moving agricultural operations to a new site, and mid- and long-term opportunities to fortify programming that broadens service populations, deepens impacts, and provides improved access to healthy food to parts of our community that are disproportionately affected by limited or no access to fresh, healthy food.
Three projects ensure these potentially challenging circumstances are carefully planned for in a sustainable, equitable, and intentional manner.
URBAN FARM TRANSPLANT
To secure a permanent home for WCG's Green Phoenix Farm to provide a stable foundation for our Job Training Program for women facing homelessness, and to provide services and resources that ensure greater food security for other members of our community who have been pushed to the margins.


INCREASED IMPACT
To improve and adapt programs and resources to better serve communities where there is greater diversity and a higher proportion of low-income households. Working with local partners to provide robust and culturally appropriate services in these neighborhoods.


ORGANIZATIONAL SUSTAINABILITY
To meet increased, evolving demand and ensure sustainable, equitable, and intentional growth of services and resources. Optimizing resources and opportunities to better serve neighbors in parts of our community that are disproportionately affected by limited or no access to fresh, healthy food.
WHY NOW?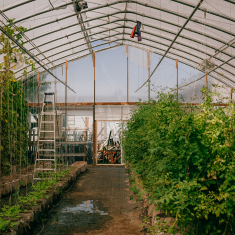 In 2022, WCG opened its new Campus, a 1.2 acre hub for Urban Agriculture in downtown Salt Lake City. This has led to dramatically increased interest and demand from the community and to interest from new partners.
Out of the pandemic, we saw a large community shift toward local resources and a quest for more self-sufficiency. We are consistently approached by individuals and groups about expanding our programming into their community, outside of our footprint. We feel their urgency as well as a responsibility to share our best practices and resources.
We are required to "transplant" our farm because of urban development: that move, ultimately to a permanent space, is being leveraged as the catalyst to offer opportunities to broaden our services to benefit the public, local growers, and our food systems.
Dwindling contiguous green space is creating an urgency to plan further ahead, anticipating community needs and resources. Preserving productive green space is imperative during a period of robust development in Salt Lake City and County.
This five-year, $5 million growth proposal represents a new chapter in WCG's ability to adapt to the evolving and growing needs of its community. With our headquarters firmly rooted in the Central City neighborhood of downtown Salt Lake City, and a thriving presence in our traditional spheres of interest, our attention must turn to less well resourced communities and neighborhoods, and how best to meet their needs. Your investment in this sustainable, equitable, intentional future is vital.
HOW WILL WE GET THERE?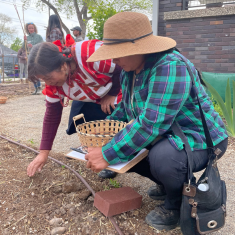 MORE INTENTIONAL PROGRAMMING BRINGS MORE INTENTIONAL GIFTS

There are growing opportunities for new gifts as WCG digs deep and focuses on specific areas of demand. For example, we have begun to apply for research grants and USDA funding that supports WCG's proven best practices and programs. New programming that focuses on justice and advocacy will open the door to individuals and groups who prioritize these perspectives. Additionally, as we pursue a permanent home for our farm, we will have the opportunity to apply for funding that supports deeply affordable housing.
NEW FUNDING SOURCES IDENTIFIED
Legislative appropriations
Matching gifts
Private individual donors
National Grants (USDA, NSF, etc.)
Legacy Gift Program (Golden Tomato Society)
HOW CAN YOU HELP?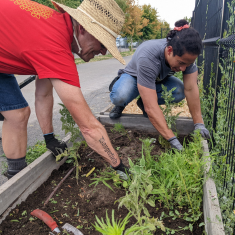 Our first goal is to achieve half of our 2:1 Match by Oct 1, 2023! Help us reach this $500,000 threshold in the following ways:
This email address is being protected from spambots. You need JavaScript enabled to view it.