2017 Garden Guru Program
Garden Guru Program - an intimate gardening & learning opportunity
Location: Variable (see each workshop or event for details)
Are you a vegetable gardener who enjoys acceptable but not amazing productivity? Do you wish your soil were more fertile? Do you have garden pests or diseases tht you haven't been able to identify or eradicate? Do you just wish you had someone to consult with about your own particular gardening challenges?
If you'd like to take your gardening to the next level, then this Garden Guru Program is just for you! Join Wasatch Community Gardens' Community Education Program Director, Marybeth Janerich ("Mb"), this spring for a series of 5 workshops and a private group field trip that will give you the tools you need to improve the productivity and health of your garden.
Garden Gurus will receive all of the following as part of this program:
A choice of two garden journals to help you track crops and productivity in a way that works best for you,
A two-hour private group consultation devoted to Garden Planning & Design,
Admission to 5 of our special-topic organic gardening workshops* (a $50 value),
Entrance to our much-coveted Pre-Sale on Friday evening, May 12th, the night before our Spring Plant Sale, (a $250 value),
Two seedlings of rare, heirloom varieties of tomatoes or peppers grown from seed in our greenhouse (these varieties will NOT be available at the Spring Plant Sale),
Private group field trip to the USU Extension Office,
Entrance to our annual Urban Garden and Farm Tour on Saturday, June 24th,
And the knowledge and confidence you need to improve productivity in your home garden.
The cost of the entire series is $349. 100% of the proceeds support Wasatch Community Gardens' programs in the community.
There are only 5 spaces available for this new program, and these spots will fill up quickly! So, don't delay! Reserve your spot, or a slot for a loved one TODAY! For more information, email Mb at This email address is being protected from spambots. You need JavaScript enabled to view it. or call 801.359.2658 x10.
MORE DETAILS
Location for all activities is the Grateful Tomato Garden at 800 S 600 E unless otherwise indicated.
The following dates encompass the full program series:
WORKSHOP #1: What's Wrong With My Veggies? Organic Pest Management
Saturday, Feb 18th, 2-4pm
WORKSHOP #2: Private Group Consultation on Garden Planning & Design & Tips on Navigating the Plant Sale
Saturday, March 18th, 2-4pm
WORKSHOP #3: Organic Fertilizers & Amendments
Saturday, April 15th, 2-4pm
HEIRLOOM SEEDLING PICK-UP:
May 17th - May 24th, by appointment
EVENT: Spring Plant Sale Pre-Sale
Friday, May 12th, 7pm
Rowland Hall, 720 Guardsman Way, Salt Lake City
FIELD TRIP: USU Extension Office
Wednesday, June 7th, 10-11am
2001 S. State Street, Suite S1-300
Salt Lake City
EVENT: Urban Garden and Farm Tour
Saturday, June 24th, 10am -2pm
WORKSHOP #4: Private Group Foliar Feedling Working Lab
Wednesday, June 28th, 5:30-7pm
WORKSHOP #5: Pest Diagnostics Working Lab
Wednesday, August 23rd, 6-7:30pm
Date

Feb 18, 2017 7:00 am - 9:00 am
Calendar
Location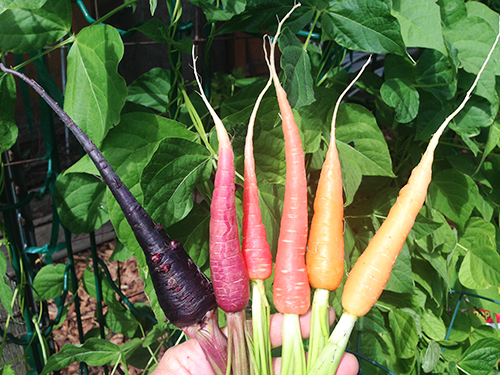 Location information
City

Salt Lake City
Street

800 S 600 E