2018 Spring Plant Sale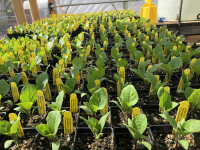 The Best Little Plant Sale in Utah will be on Saturday, May 12 at Rowland Hall!
2018 Plant Sale information
Saturday, May 12
8 am - 1 pm
Rowland Hall
720 S Guardsman Way (1580 E), SLC
69 varieties of tomatoes, including dwarf varieties
A large selection of annual vegetables, edible perennials, and organic herbs
Seed potatoes and onion starts
Replenish compost by the bag
Plant experts supplied by Utah State University's Master Gardeners' Program to answer your questions
Veggie valet service to store your plants while you shop and haul them to your car!
Food trucks available to purchase food and coffee
SNAP EBT benefits (food stamps) accepted
Your purchase supports WCG's community garden and education programs
We couldn't put on the Plant Sale without our volunteers! Sign up here to be part of the crew this year.
Plant Lists
Please note, all varieties are subject to change!
(All varieties marked with an asterisk (*) are new to the Plant Sale in 2018.)
How to Plant Sale
How to Plant Sale
After about 15 years of hosting the Plant Sale, Wasatch Community Gardens came up with our very best tried and true tips to help you take advantage of everything the Plant Sale has to offer (there's a lot!):
1. Bring your own box or wagon
It happens all the time: you come for one tomato plant and leave with an entire vegetable garden. Getting excited about planting your vegetable garden is nothing to shy away from. Make sure you come prepared to tote home your heirloom goodies including your basil and watermelon seedlings.
2. Use our Veggie Valet Service
Didn't bring a box or wagon? No worries! You can still shop with ease by using our Veggie Valet Service. Leave your plants with the Veggie Valet Service for FREE, and when you are finished with your purchase, we will help transport everything to your vehicle.
3. Don't forget to love your soil!
We will have over 600 bags of Replenish compost for sale. At $8 a bag, these 1 square-foot organic compost bags will go quickly, so make sure to get yours before they're gone!
4. Bring the kids
Involving your kids in every step of gardening, from picking out the plants to harvesting vegetables, is a fantastic, active, outdoor activity for the whole family. You'll be surprised how often curious kids are willing to eat a spinach leaf straight from the garden (and you thought you'd never get them to eat fresh vegetables!).
5. Ask the experts
What plants will do well in partial shade? What vegetable will grow well next to your cucumbers? If you are a first time gardener or have questions about a specific plant, just ask! We will have Perennial, Veggie|Tomato, and Fruits-Roots-Herbs experts just waiting to answer any question you may have. Additionally, our friends from Utah State University will have a Plant Expert booth to answer all your questions before and/or after your visit to the sale.
Thank you to our Plant Sale 2018 sponsors: