2018 Tomato Days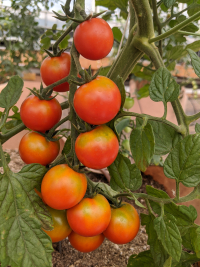 Celebrate Tomato Days with our Tomato Sandwich Party on September 8, and our Tomato Days Dine-Around, date to be announced.
2018 Tomato Sandwich Party
Saturday, September 8, 11am - 2pm
Grateful Tomato Garden - 800 S 600 E, Salt Lake City
Bring your friends and family and join us at our Annual Tomato Sandwich Party! We'll be serving delicious (and free!) pesto and heirloom tomato sandwiches. Enjoy live music and take a stroll through our beautiful and productive Grateful Tomato Garden. We hope to see you at this kick-off event for Eat Local Week!
---
Highlights of the 2017 Tomato Days Dine-Around
August 15 - September 15
Thank you to participating restaurants for their declicious heirloom tomato-themed menu items. Wasatch Community Gardens received a portion of the proceeds every time you ordered that special dish!
Many thanks to our Tomato Days sponsors:
Highlights of the 2017 Tomato Sandwich Party!

Thank you to everyone who attended the 2017 Tomato Sandwich Party! We served more than 500 sandwiches, which included 225 lbs of heirloom tomatoes, 16 quarts of pesto, hummus, and 50 loaves of bread. A light shower kept us from getting too toasty, we caught up with old friends and made some very welcome new ones! Can't wait to see you all in 2018.
And a gracious thank you to Crumb Brothers, Franz Bakery, Laziz, Keep It Real Vegetables, Cantu's Cullinary Creations, and Wasatch Community Gardens' GREEN TEAM Farm, Youth and Community Education Programs for their support of the Tomato Sandwich Party.