2021 Spring Plant Sale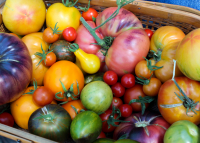 The Best Little Plant Sale in Utah will be online again in 2021 to keep our community healthy!

Wasatch Community Gardens' Spring Plant Sale will once again be brought online for 2021 with social distancing and community health in mind. The online sale will be held March 22-28, with contactless curbside pick-up taking place May 4-8 at our Green Phoenix Farm (622 W. 100 S. in Salt Lake City). Or, opt to have your plants delivered right to your doorstep. Visit wcgplantsale.org for full information!
More than 40,000 plant starts will be available, including...
Over 75 tomato varieties
Large selection of herbs
Edible perennials
Seed potatoes
Unique onions, leeks and shallots
Artichokes, okra and fennel
Annual flowers and grasses
Select seed varieties
SNAP EBT (food stamps) accepted for all food growing plants
IMPORTANT UPDATE FOR THIS YEAR: to better serve our customers and provide a streamlined shopping experience, our Spring Plant Sale will be open only to those who have been active WCG community members the past handful of years (January 1, 2017 - March 19, 2021 at 5 pm). We also welcome anyone who will be using SNAP EBT (food stamps) to purchase food growing plants, even if they have not been previously involved with our organization. Please don't get us wrong: we wish we could serve everyone, and we will absolutely do so as soon as we are able to hold the sale in person again! In the meantime, we'd like to honor those who have supported us in so many ways over the years, enabling our small but mighty nonprofit to continue empowering people to grow and eat local, healthy, organic food. The Spring Plant Sale is a huge lift for our organization, and we want to make sure we provide excellent service to our community of shoppers with the resources we have.
FREQUENTLY ASKED QUESTIONS
Thank you for reading and for your continued support during these challenging times. We so look forward to the time when we are able to gather in-person again... with every single one of you.
Thank you to our 2021 Spring Plant Sale sponsors:

Thank you to our 2021 Spring Plant Sale Lunch Sponsors, who will keep our team fueled and energized during plant pick-ups: Cafe Trio, Pizza Nono and Pulp Lifestyle Kitchen.


Thank you to our 2021 Season sponsors: