Fun Garden Features
The thing that sets a school garden apart from any other kind of garden are the interactive and fun elements that can be included! We have identified some easy, fun, and impactful elements that will elevate a school garden from just a few garden boxes to a truely engaging teaching space.
Garden Signs
Garden Sign
Installing a hand painted garden sign to your school garden is a great way to add some color and really invite your school and community into your garden. One of the best ways to do this is to have your local hardware store cut an 8x1" board into 10" shingles. This is the most economical and simplest way to get pieces of high quality wood for your sign (craft stores will sell shingles of wood for $3 a piece! That's way too expensive!) Once you have your shingles, drill a 1/4" hole in each of the 4 corners. Paint your sign, and mount to any chainlink fence with an outdoor zip tie at each corner! This way, if a single letter breaks or a piece of zip ties fails, you can easily replace the letter or zip ties.
Of course, if you don't have a fence around the outside of your garden, you can mount the sign to any large and easy to see surface (a shed makes a great message board!), or onto the garden boxes themselves.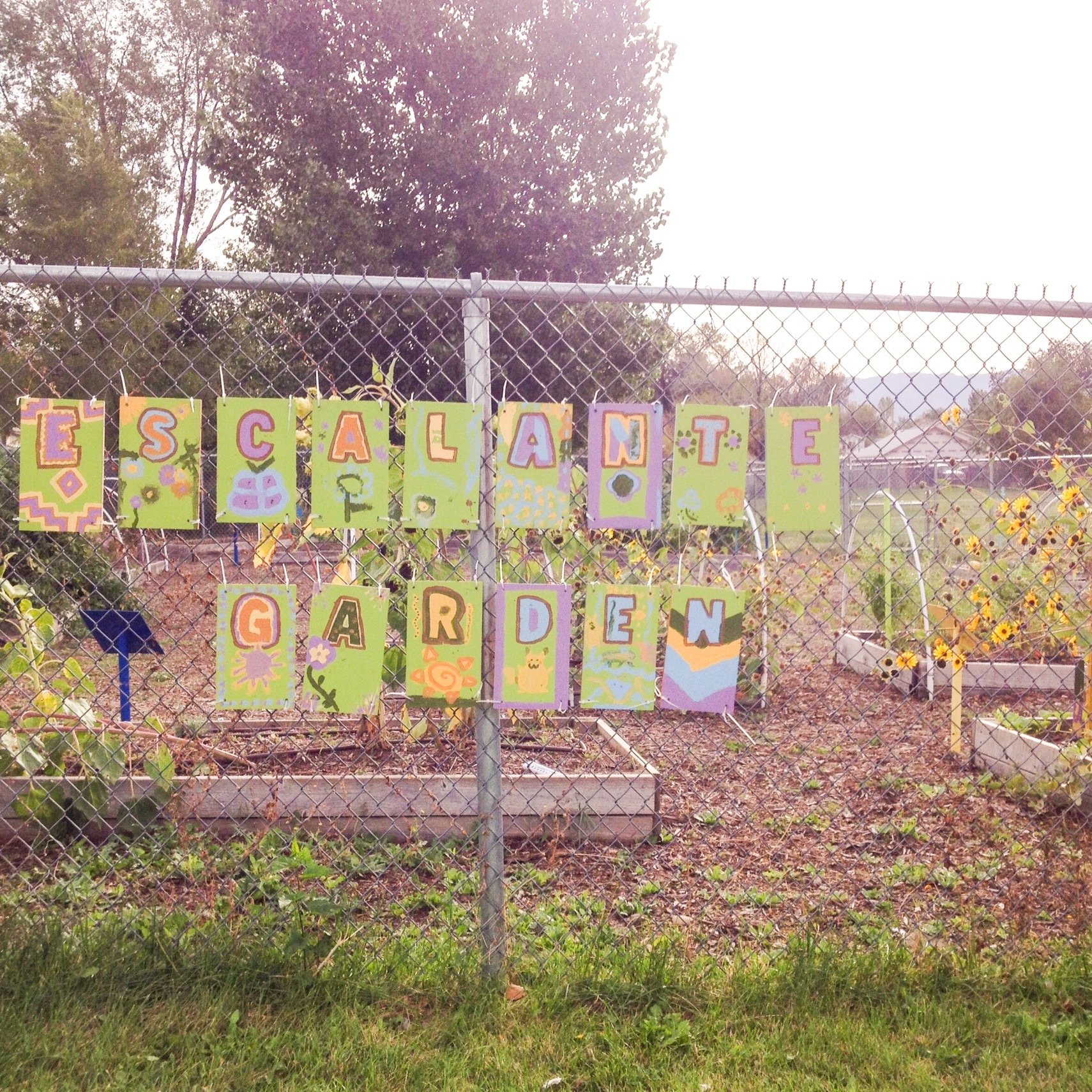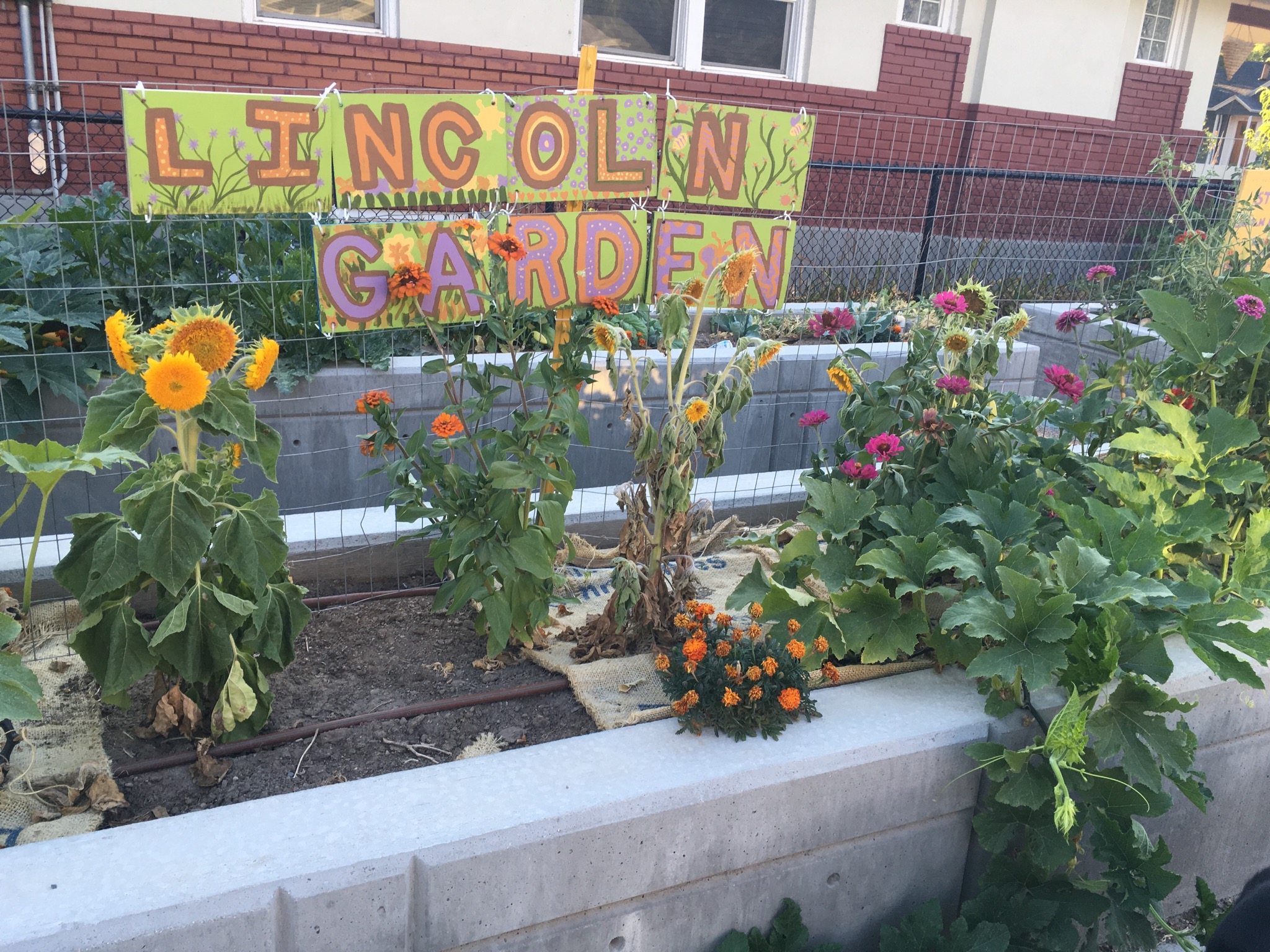 In addition to a garden sign with your gardens' name, it is also a great idea to include other informative signs!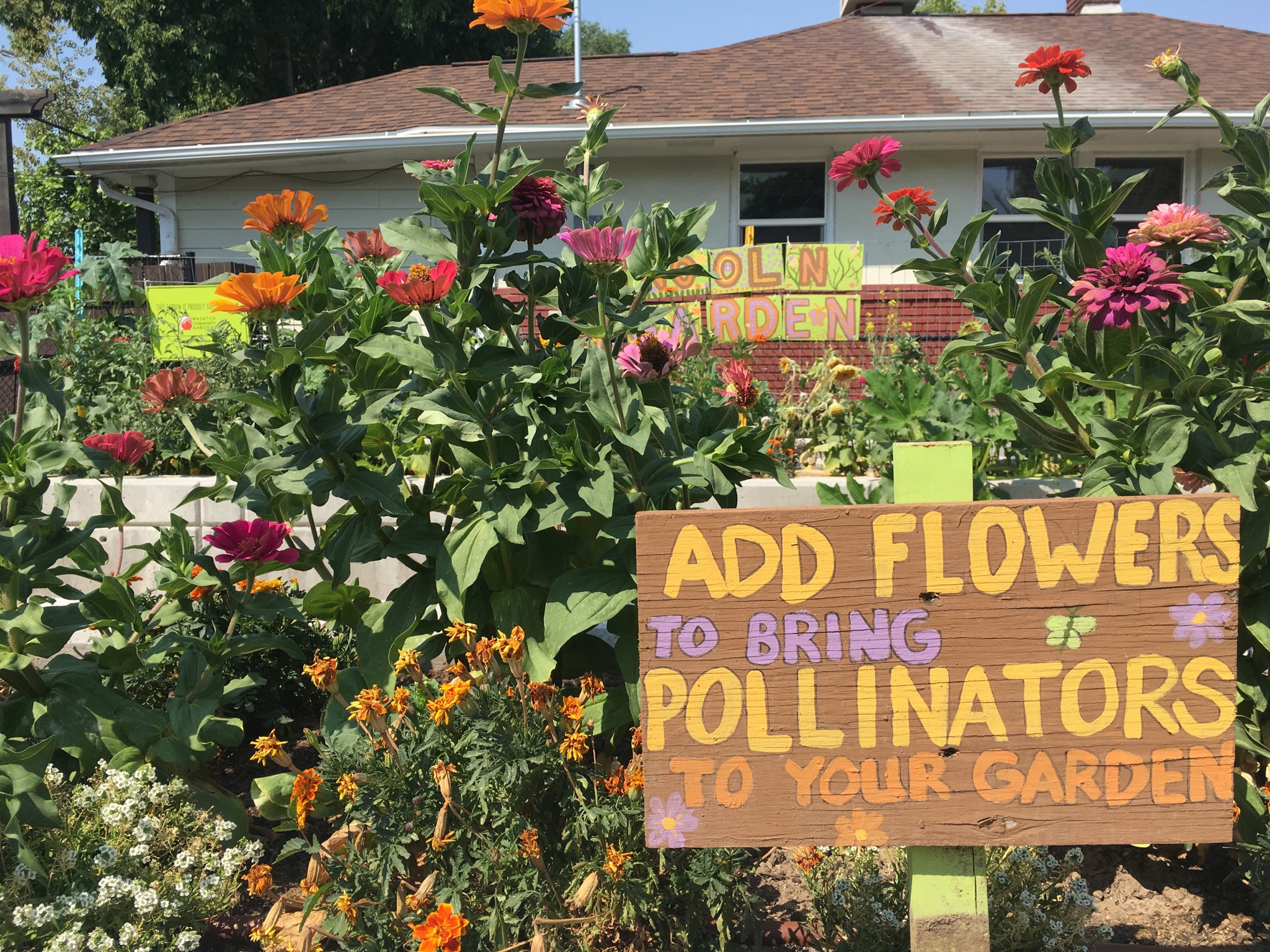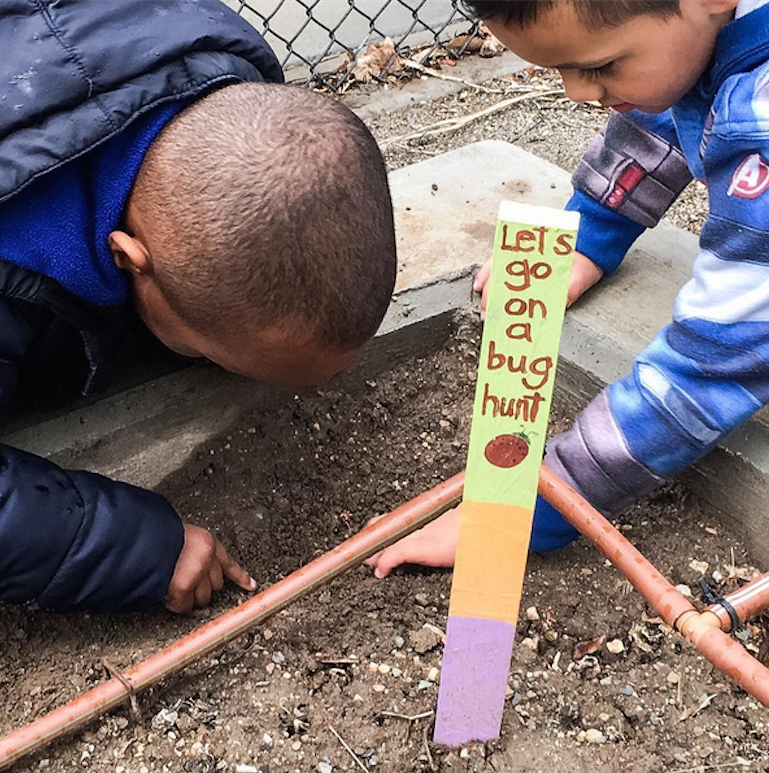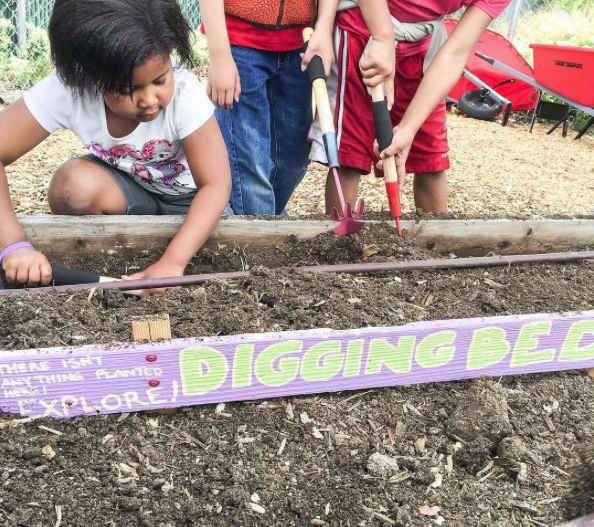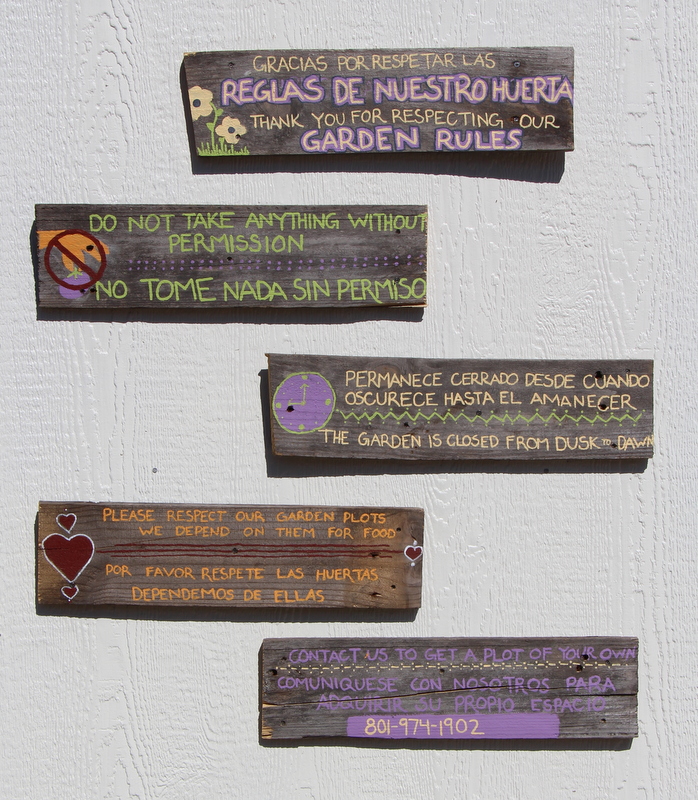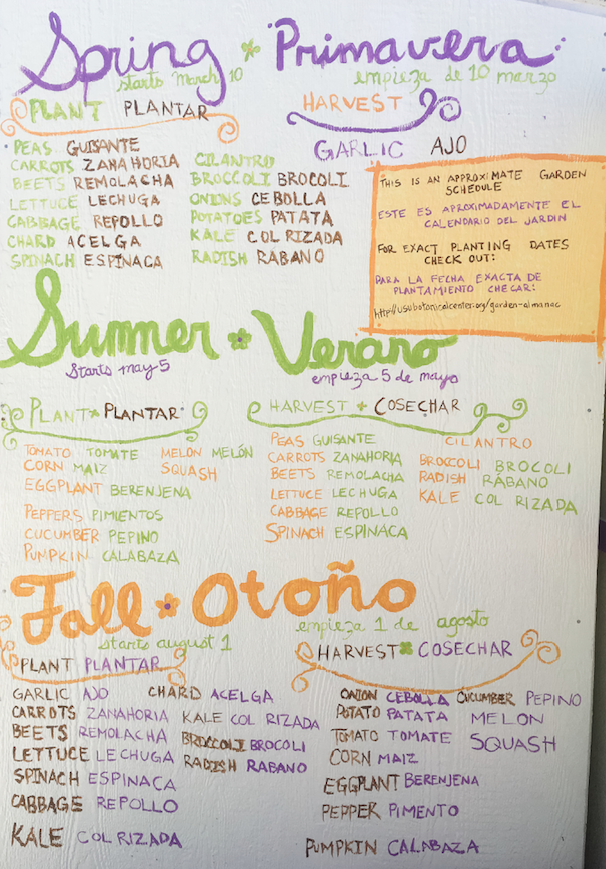 Teaching Shed
Teaching Shed
Check out this video-tour of a simple teaching shed at Linclon Elementary
If you are installing a tool shed or box, be sure to consider that you are building an education garden. Sure, you might need a bunch of wheelbarrows for your initial build, and for a work party every now and again, but does your garden have the capacity to store four wheelbarrows? Does it need to? Are there parent connections you can tap into for tools? You should design your tool shed (or tool chest) for what the garden needs on a daily basis. Maybe it will contain a bunch of colored pencils, some good picture books, and a small kitchenette, or maybe it will contain a bunch of hand trowels and some posters of bugs. However you decide to design your shed – make sure it fits the needs of your garden.
Consider this checklist a good starting point for any school garden. Although it may look like a lot to handle, it easily fits into an average tool chest, and cost less than $150 to put together. If you have extra space and funds, consider a potting shelf, workstation, gardening gloves, or a more elaborate kitchenette! The sky is the limit with your tool shed.

The Mountain View Shed contains all the suggested items, and includes a workbench, corkboard, and the inside of the door is painted with chalkboard paint – which makes it perfect for outlining the garden activity or garden rules!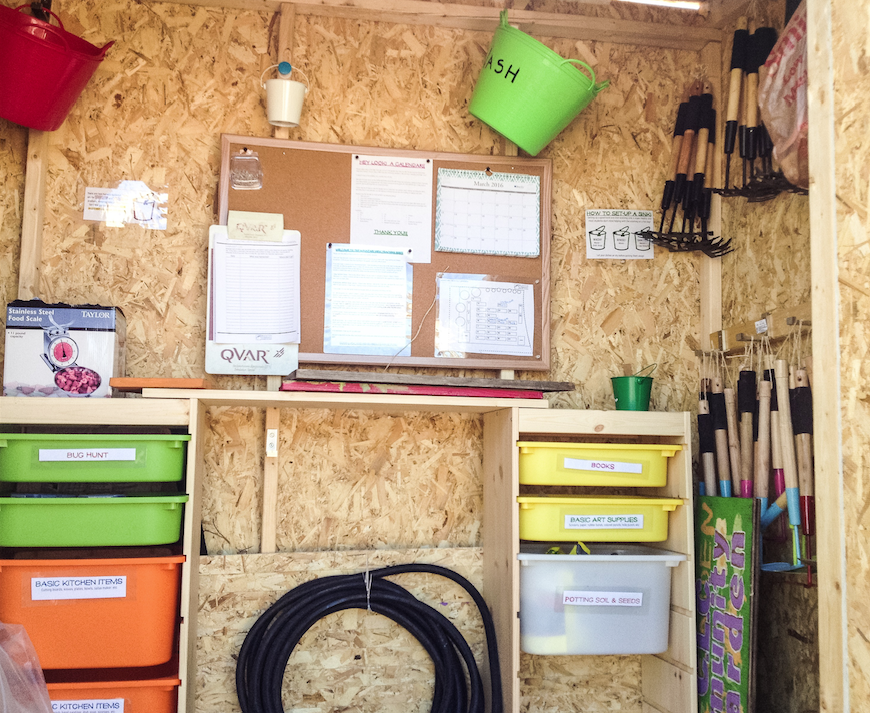 Most of the suggested items fit into a simple tool chest at Lincoln Elementary (minus the corkboard, chalkboard, and adult-sized tools). The kitchen items fit into one bin, the art/teaching supplies into another, the totes and tools are in separate buckets, and there is a final bin with clamps and greenhouse plastic for low tunnels!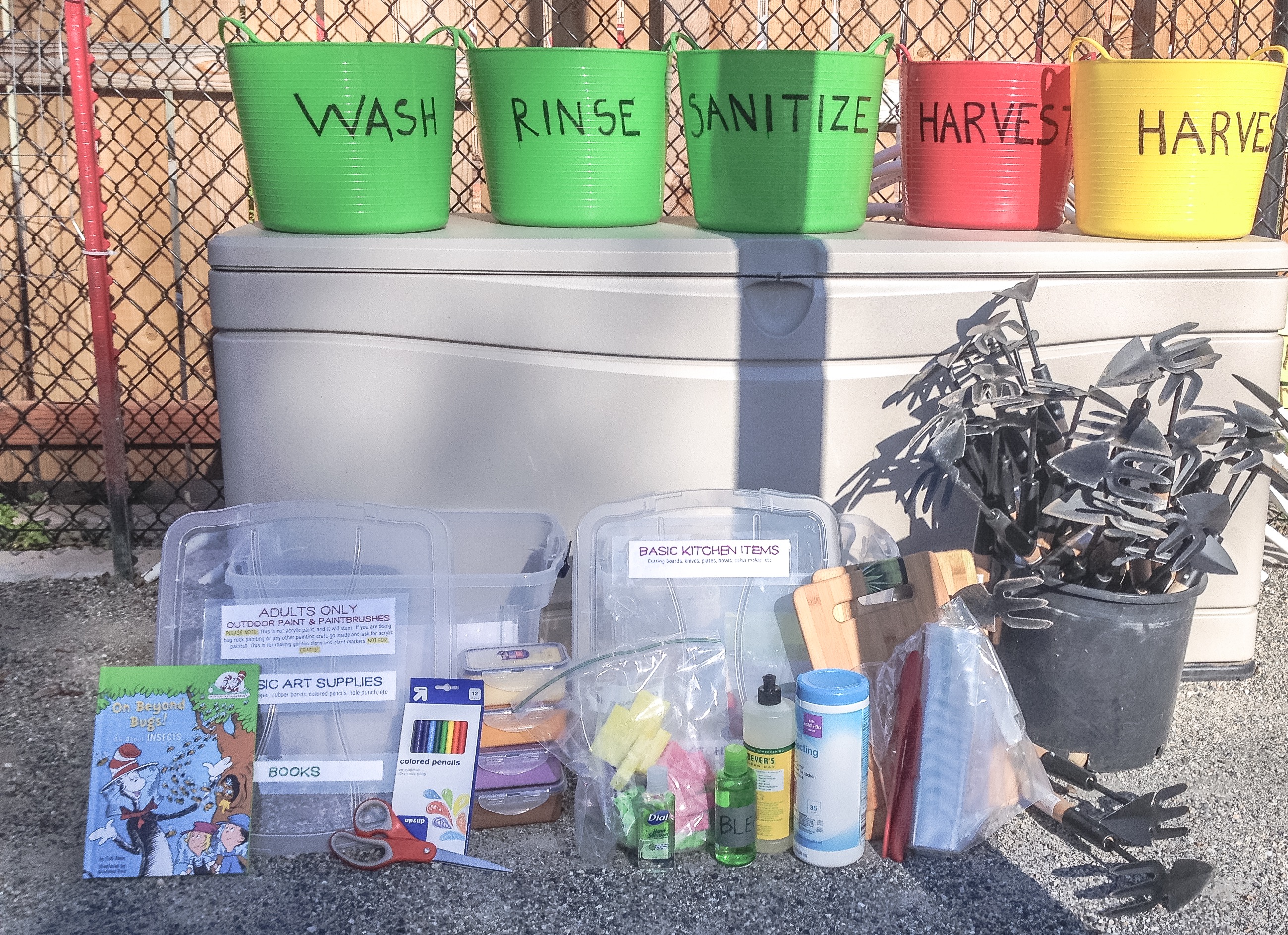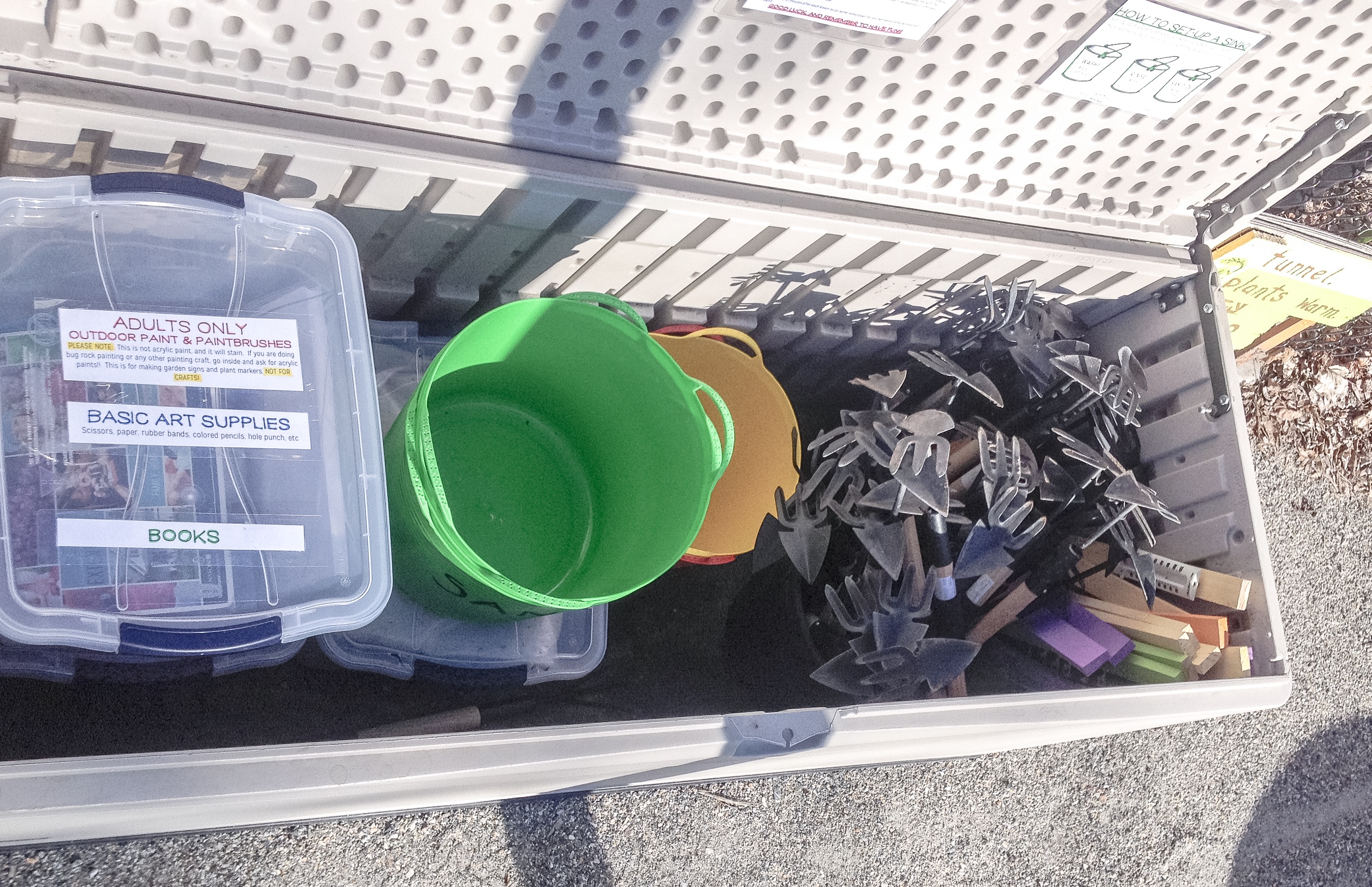 Be sure to label all the items and areas of the tool shed. Although it might feel nit-picky, people generally feel more empowered to use something if they know how it works. Good, clear signs are key to making your shed accessible to anyone. The following links are the garden signs that WCG uses at their gardens. Use them as-is or create your own!
Outdoor Classroom
Outdoor Classroom
Developing an outdoor learning space can be as elaborate or as simple as you can ever imagine. There are a few key features of any outdoor space:
Shade: Both you and your students need to feel comfortable no matter what time of day
Seating: Whether you can afford a bench or you have an outdoor carpet, having a place where students go to gather is essential. A sheet of plywood with painted icons is cheap and simple! Have students sit on their pockets on an icon – it should help corral their wiggles and if the icons are painted different color, students are already divided into groups for garden tasks!
Table: Whether you keep a folding table in your shed or you have a table installed by the outdoor classroom, a table is where the outdoor sink gets set up, where veggies get chopped, where handouts get set down, and where experiments happen.
Outdoor Classrooms can be as diverse as school gardens themselves. Here are a few examples of simple outdoor classrooms from around the Salt Lake School District:
Escalante Elementary: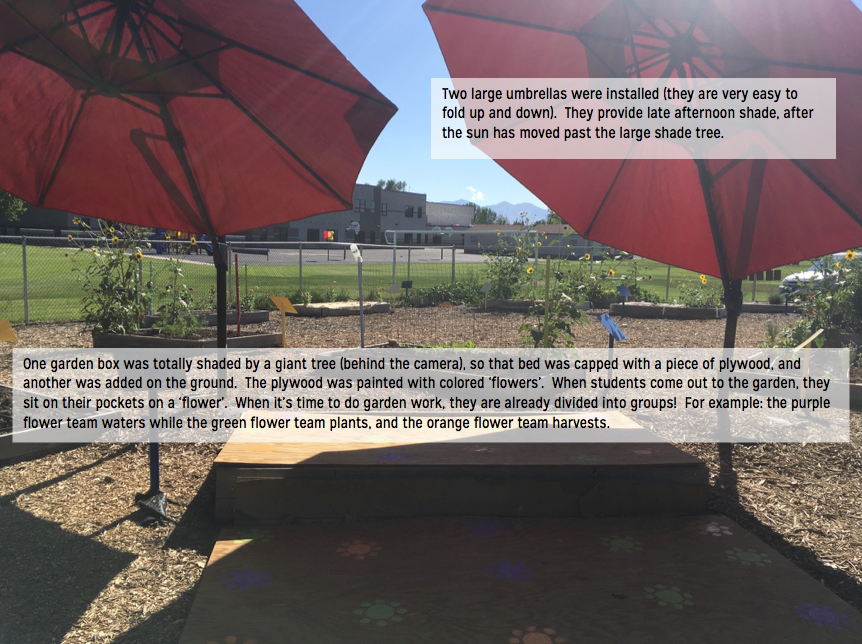 Mountain View Elementary:
The Mountain View Elementary Garden has super nifty benches with small tables attached to the front where the students can work on garden worksheets or have a snack. The benches are not anchored, so they are easy to move around the garden. The teaching shed has a black board on the inside door, and acts as a garden classroom when the benches are arranged in semi-circle in front of it.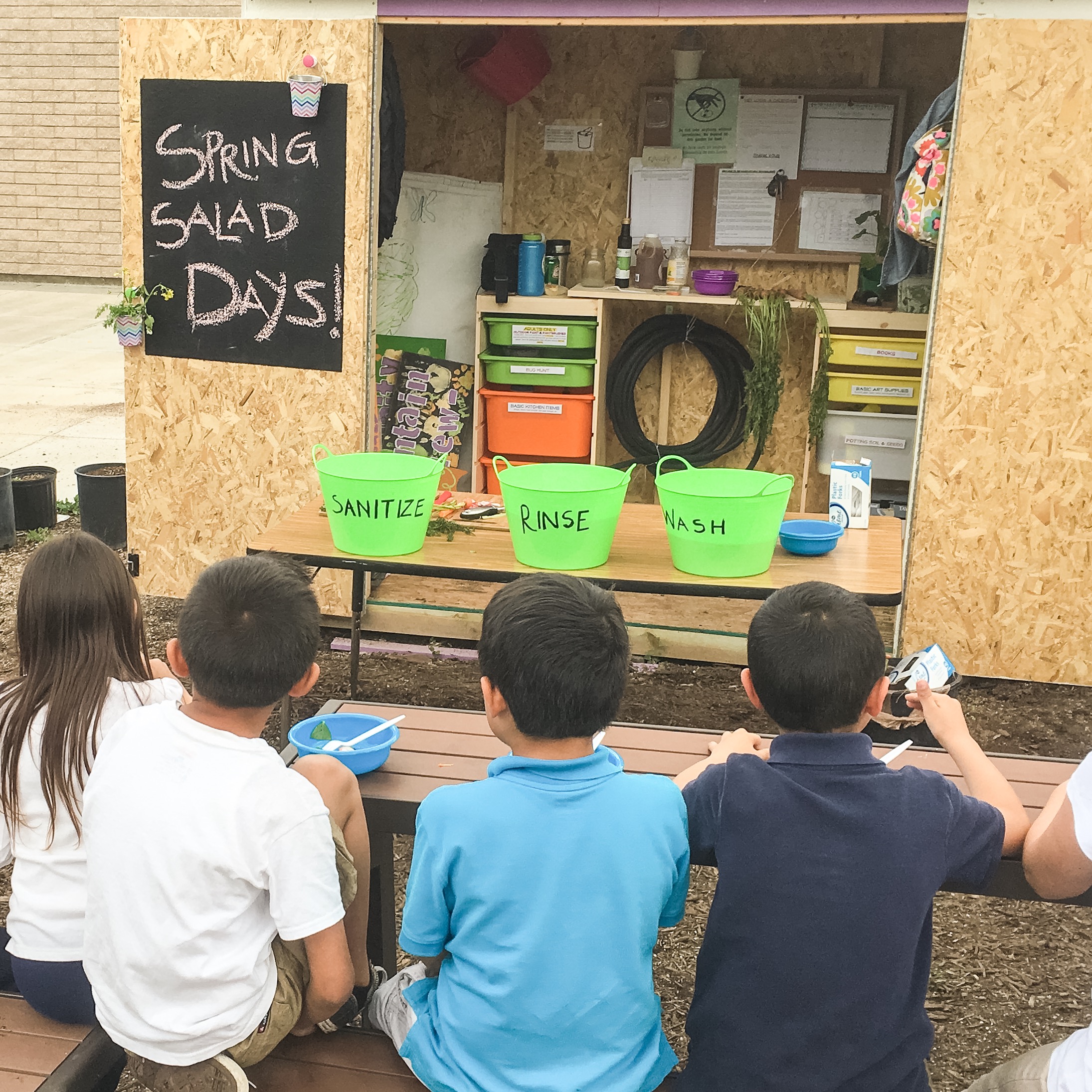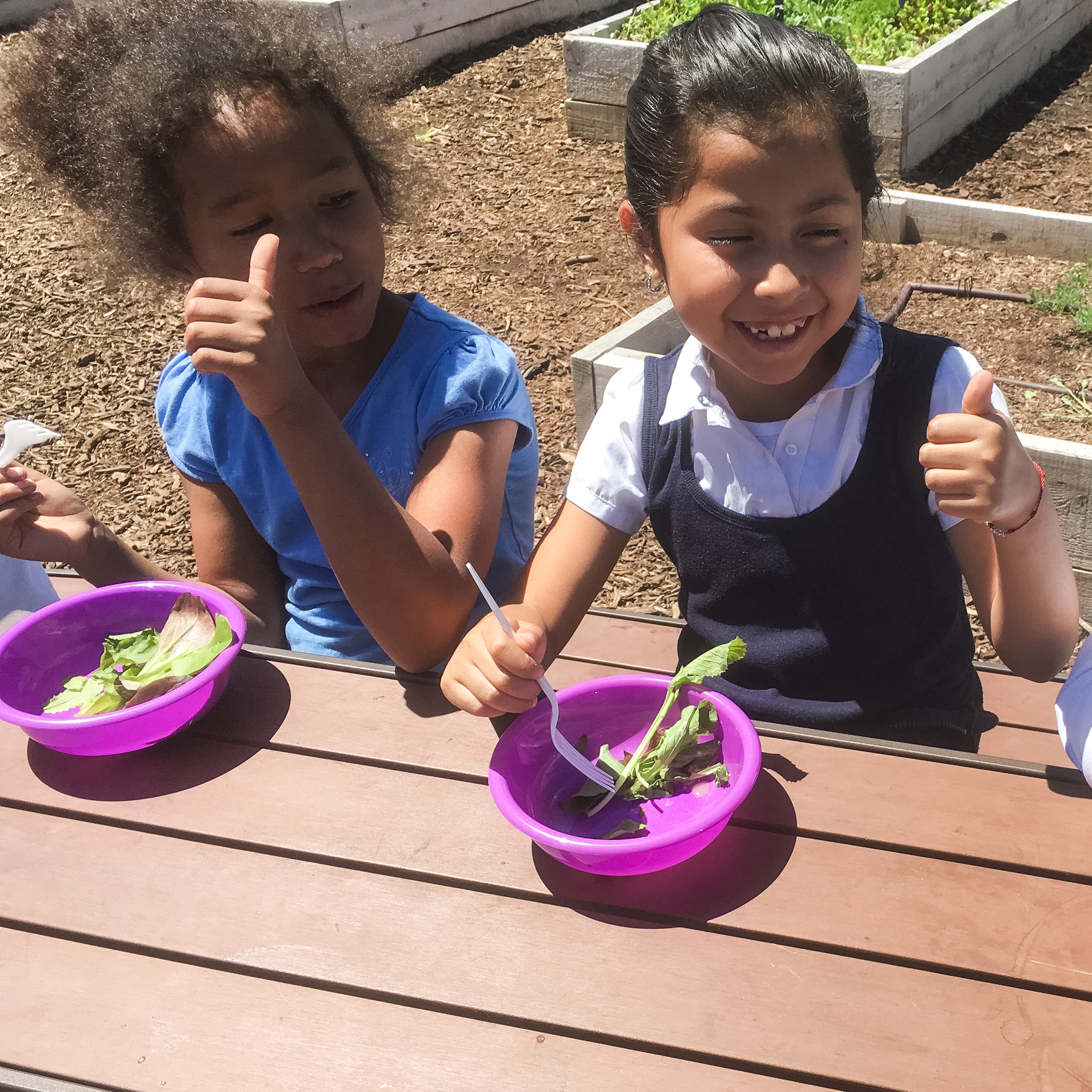 Sunflower House
Sunflower House
Sunflower houses are an excellent and very easy way to add a bit of whimsy to your garden. Not only are sunflowers easy to grow, they also offer lots of really fun learning opportunities. From identifying the parts of the plant to saving the seeds, sunflowers are a super fun plant to have in the garden. While planning your sunflower house, try inter-planting the mammoth sunflowers with smaller flowers such as zinnias, marigolds, and teddy sunflowers. These other flowers are all easy to direct sow and grow from seed, and will add color and bring other kinds of pollinators (bees, butterflies, hummingbirds, and other song birds!) to the garden!
The Sunflower House at Riley Elementary School in Salt Lake is located in an ornamental landscape bed. The garden boxes at Riley were too small to accommodate a sunflower house, so the faculty worked with the grounds crew to identify a spot in a landscape bed. The result is adorable: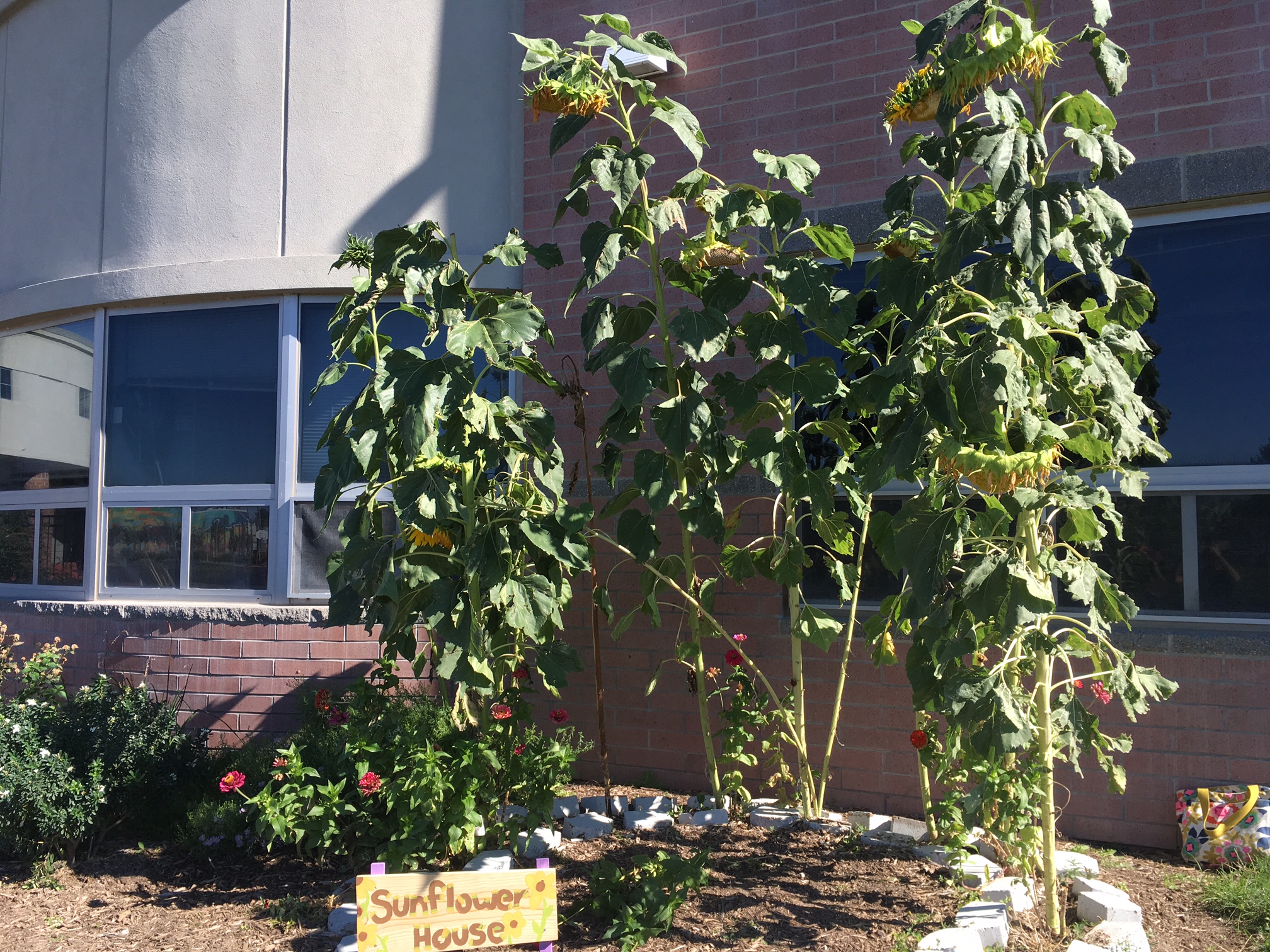 Pumpkin Patch
Pumpkin Patch
Pumpkin Patches are the #1 most useful feature in any school garden. Not only do students LOVE to watch the pumpkins grow, they grow easily from seeds (cheap!), there are lots of super fun pumpkin lessons, and they hardly require any summer maintenance.
When considering that Salt Lake City has three major growing seasons (spring, summer, and fall), pumpkin patches an ideal summer crop. They get direct sown just after spring crops are maturing and getting taken out of the garden, and you can direct sow fall crop seeds under the shade of the pumpkins leaves.